The collection going under the hammer belongs to Bowler's former Director, Richard Hayward. It includes seven trucks, all based on Defenders.
Several of the vehicles are prototypes, from the mid-2010s when Bowler was developing the Cross-Sector Platform (CSP) chassis that underpins its projects today. The CSP program was designed to create a platform that could be used not just for racing, but also could be modified as a modular platform for defense, resource exploration, and emergency vehicles.
The three prototypes for sale all have the 5.0-liter supercharged AJ-V8 motor or the 3.0-liter supercharged V6 variant, sourced from the racing-tuned Jaguar side of the JLR business. Although they look like Defenders, they are in fact ground-up custom-built vehicles on their own chassis.
The Defender "Challenge" for sale is a 2013 racing project, designed for amateur racers to be used in the Defender Challenge, a certified race event held by Land Rover and Bowler from 2014 to 2016. The events were held within existing British rallies, like the famous Welsh Hill Rally and Scottish Hill Rally. The truck for sale had wins in the Scottish Hill Rally and the Hill Rally Championship. While it has been tuned for rally use, it can also still be driven on the road.
There are also several "traditional" Defenders for sale, riding on factory chassis and still utilizing their Puma diesel engines. They have all, however, been custom-tuned and extensively modified. They have Bowler's "Fast Road" suspension kit, engine tuning, Bowler wheels, lightweight body armor, and body graphics.
The seventh vehicle for sale will be the most desirable to some – a Defender 110 crew cab pickup based on those used in the 2015 James Bond film SPECTRE. The ten vehicles in the film were built by Bowler, and the vehicle on offer is an eleventh, custom-built for Hayward. It differs slightly from the film cars, being right hand drive instead of left. It's one of the very few SPECTRE trucks to be road registered.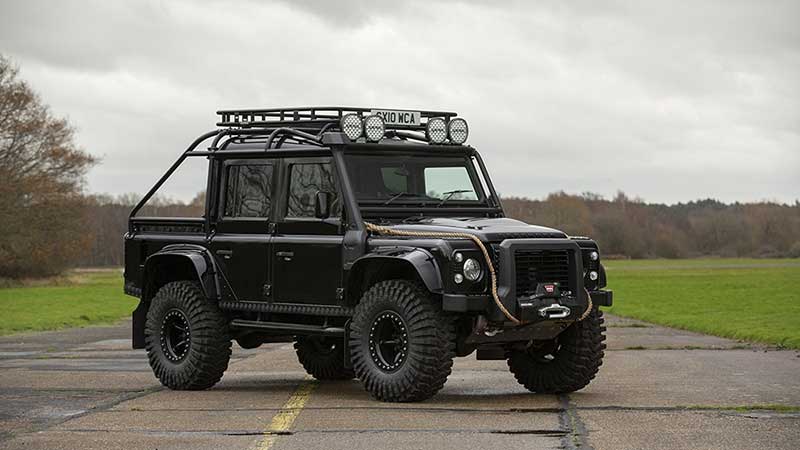 None of these vehicles will pass under the hammer for cheap, and it would be exceedingly difficult to get any of them into America. But they are a fascinating collection of Bowler's output in the waning days of classical Defender production.
Check out the listings on RM Sotheby's website...
2016 Bowler CSP V8 Prototype "P1"
2016 Bowler CSP V8 Prototype "P2"
2015 Bowler Pennine V6 110 Prototype
2015 Land Rover Defender 110 Landmark XS
2013 Land Rover Defender 90 Hardtop TD "Challenge"
2015 Land Rover Defender 90 Hardtop XS
2010 Land Rover Defender SVX "Spectre"