It was clear from the beginning that the new Defender would not be built the same as the old one. The ladder frame, bolt-together construction, and boxy design of the old vehicle was put out of production due to its non-compliance with a litany of regulations. It was about to run afoul of European Union pedestrian safety and environmental regulations. It hadn't been sold in the United States since 1997 due to a requirement for all vehicles to have dual airbags for the 1998 model year. Airbags were never installed in it, and this finally caught up with it in Europe as well, as regulations would finally require airbags in commercial vehicles. Though it had been retrofitted with ABS and traction control in latter years to appease regulators, the litany of driving aids that are becoming mandatory in different markets just couldn't fit into the Defender's design. The iconic boxy front end could no longer be adapted to protect pedestrians in a crash, again something strictly regulated by the EU.
After 68 years, the last Defender rolled off the line at Block 1, Lode Lane, Solihull, England on the morning of January 29, 2016. What followed was a dark time: a Land Rover without its spiritual flagship. Sure, there's the Range Rover, the luxury flagship, and the Discovery 5 is a fantastic vehicle. They're capable vehicles, taking modern construction and adapting it to create that same "Best4x4xFar" ethos that Land Rover has always stood for. But without a utility model of some sort, something was missing. Even the mighty Range Rover – the Classic version of which the Defender's supple coil-sprung chassis was based upon – was missing a little swagger without a world-beating Defender across the showroom.
In late 2018, the fog started to lift, as the first heavily-disguised test mules of a new Defender hit the road. It would be different this time. We knew we were in for a unibody vehicle, of the same groundbreaking modern aluminum construction as the Range Rover and Discovery vehicles. It would have independent suspension, something Land Rover has constantly refined since introducing it on their heavy-duty lineup with the 2003 Range Rover. A bolted-together box it would not be; that wasn't possible. But what we ended up with was something as close to the original as was reasonable to achieve in this day and age.
The Defender is back, and though it's very different, it's also very familiar. The model names are the same – Defender 90 is a short-wheelbase two-door, Defender 110 a long-wheelbase four-door. Rumors of a Defender 130 coming in a year or two are out there, perhaps riding on the same wheelbase as the 110 with extra rear overhang. Unlike the original models, the numbers do not match up to their wheelbases (not that they did before, anyway; an old Defender 90 had a wheelbase of almost 93 inches). Though Land Rover considered using different numbers, they decided that too much goodwill was invested in 90, 110, and 130. The Defender 90 is close to the "magic 100-inch wheelbase" of a Discovery 1 or 2 or a short-wheelbase Range Rover Classic, at 101.9 inches, while the Defender 110 rides on 119 inches.
In the United States, the Defender comes with two versions of the Ingenium engine family: a four-cylinder gasoline motor, or a six-cylinder gasoline motor with mild hybrid technology to boost torque. There is no diesel coming here yet, and with the changing market for diesel, there is a possibility we will never see the diesel variants the rest of the world does. A plug-in hybrid is coming soon, presumably in North America as well, and may serve our torque and economy needs instead.
Unlike the original Defender, which typically only came with a manual transmission (the 1997 North American Spec was a notable automatic transmission exception), the new one does not have an option of a stick shift at all. The ZF 8-speed is used in other Land Rover models with great success, however. Power goes through a two-speed transfer case with a central differential lock. Unlike the Range Rover Sport and Discovery 5, there is no single-speed transfer case option; low range is a requirement to maintain those Defender guts. A rear locker is optional. The geometry is amazing off-road, too. An approach angle of 38 degrees, departure angle of 40 degrees, and break-over angle of 31 degrees in the D90 and 28 degrees in the D110. There's also a wading depth of almost three feet – far and above the 20 inches of the old one – with a Wade Sensing feature built into Terrain Response to make sure you don't go over that.
The Defender will be available across the price range of the market. The Defender 110 starts at just under $50,000 when it goes on sale in early 2020, but if you want the top-spec Defender X model, you can touch $100,000 easily. The Defender 90 is coming later in 2020 and will start a few thousand dollars cheaper. Like the old vehicle, it can stretch from utilitarian to luxury with just a few tweaks.
The Defender will only come with a full roof and sides. Traditionally this was the case globally. The NAS Defenders were some of the few soft-top models made in recent years, and there had been a long hiatus of no soft-top models at all until the last few years of production in the 2010s saw it reintroduced in limited production numbers. However, the Defender 90 has the option of an accordion folding fabric roof, similar to some Jeep models, and all models have the option of either a solid roof or a panorama glass roof.
The interiors are no longer as Spartan as the old Defender, but even though they have touchscreen entertainment systems (might as well since all vehicles sold in the USA need to have a backup camera), optional power Windsor leather heated and cooled seats, and optional high-end Meridian stereos, it's still a fundamentally basic place. Unlike other cars, Defender comes standard with rubber wipe-clean floors, and you can buy carpet mats to put over them if you'd like to. The standard seating position is for 5 people. There's an option of two flip-up occasional seats in the third row, or a folding jumpseat in the middle of the front row to carry six in two rows of three.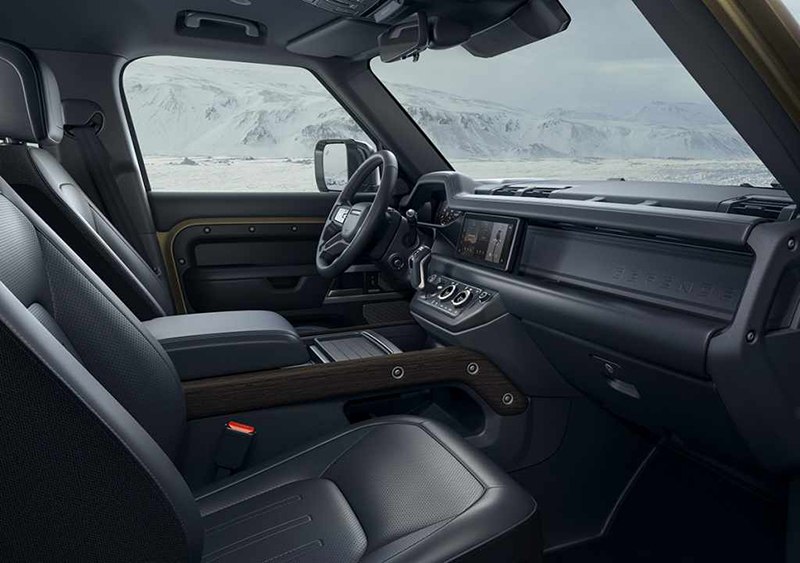 Defender's styling was never going to be uncontroversial; at this point, Land Rover could have released the same vehicle as they built before and still come under intense scrutiny. You don't replace an icon lightly. Nonetheless, Land Rover has done a good job of retaining the basic Defender design traits and bringing them into the modern day. The bumped-out sides, a design hallmark since the Series II, have been retained. The hump on the hood that was part of the redesign in 2007 to accommodate the new Puma engine was carried over, as was the trapezoidal shape of the hood, now a design feature of a one-piece unit instead of covering a smaller central engine area. The headlights carry round daytime running lights with the top cut off, with turn signals that resemble squared-off versions of Defender marker lights. The taillights carry the same theme, with tall fixtures against black surrounds that suggest the old Hi-Capacity pickup models. The rear end still carries a spare tire on the door, there are still ridges in the roofline, and the famous Alpine windows retain their place of pride on the roofline. The dashboard makes a centerpiece of the metal structural beam across the front of the unibody, covering it with a surround that heavily mimics the dashboard of a Series truck or pre-2007 Defender model. Steel wheels (painted a very traditional white) are even an option on some models!
The Defender also comes with a catalog of over 170 accessories. In addition to the usual bike racks and storage organizers, there's an expedition-style roof rack, an integrated winch mount, and a roof-top tent. There's even a side-mounted ladder and an external gear locker with a drain for dirty, wet stuff. Accessory Packs put together complementary bundles for different off-road situations, as well as an Urban Pack for the city.
The Defender has certainly changed, but it had to. It has 85 computers, transmitting thousands of lines of code a second, but that's a necessity when the European Union will soon require a litany of radar- and camera-based driving aids in every new vehicle sold. The shape is more rounded than some hoped, but Jaguar Land Rover is a small company that needs to do everything it can to meet fleet fuel economy standards. The Defender is certified for sale in over 150 markets, making it a truly global 4x4. That's a major feat – neither Jeep nor Toyota sells a single model that's available in almost the same configuration on such a vast global scale. That feat required some design compromises to be saleable in Detroit, Delhi, Durban, Dubai, Dublin, Dalian, and Dunedin.
It's all change at Land Rover, but at the end of the day, it's a change that had to be made. The plug was pulled on the old Defender with a very heavy heart. It was primitive compared to a $250,000 top-spec Range Rover, but it lent gravitas to the entire product line and was produced until it was legislated out of the market. The new one has brought that raw spirit of adventure back to Land Rover, in a new way that embraces the achievements of the 21st century.